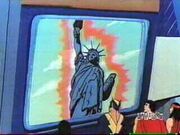 The Statue of Liberty is a statue located off the coast of New York, New York, in New York Harbor on Liberty Island. It welcomes visitors, immigrants, and returning Americans traveling by ship.
The Statue of Liberty (French: Statue de la Liberté), officially titled Liberty Enlightening the World (French: la Liberté éclairant le monde), dedicated on October 28, 1886, is a monument commemorating the centennial of the signing of the United States Declaration of Independence, given to the United States by the people of France to represent the friendship between the two countries established during the American Revolution.
Episode Appearances
Coming Soon!!
External Links
Ad blocker interference detected!
Wikia is a free-to-use site that makes money from advertising. We have a modified experience for viewers using ad blockers

Wikia is not accessible if you've made further modifications. Remove the custom ad blocker rule(s) and the page will load as expected.