You may be looking for Storms (chaotic weather phenomena).
Storm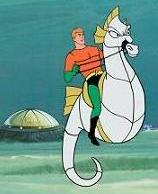 Storm was the name of an over sized domesticated seahorse that lived in the underwater continent of Atlantis. Aquaman developed a close telepathic relationship with Storm and employed him as his personal mount.
Aqualad rode atop a younger, more playful seahorse named Imp.
Powers and Abilities
Notes
Storm first appeared in Aquaman vol.1, #35[1] (October, 1967)
Storm was prominently featured in many episodes of the Aquaman animated series (1967-1968).
Episode Appearances
SuperFriends:


Filmation's The Superman/Aquaman Hour of Adventure:
Episode List Coming Soon!
References
↑ Go to DC Database for more on Aquaman vol.1, #35
Ad blocker interference detected!
Wikia is a free-to-use site that makes money from advertising. We have a modified experience for viewers using ad blockers

Wikia is not accessible if you've made further modifications. Remove the custom ad blocker rule(s) and the page will load as expected.