Earth's Yellow Sun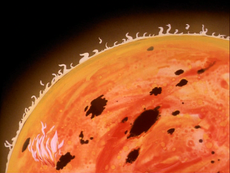 Earth's yellow sun is a star of average size and the main power source within the solar system.
Native Species
Kryptonians
Solar energy from the yellow sun is the source of energy for Kryptonian powers.
"
The yellow rays are what give me my super-strength
"

— Superman, in History of Doom
Red Sun
At certain times the Sun can appear red. While this is occurring, Kryptonians lose their powers.
Ad blocker interference detected!
Wikia is a free-to-use site that makes money from advertising. We have a modified experience for viewers using ad blockers

Wikia is not accessible if you've made further modifications. Remove the custom ad blocker rule(s) and the page will load as expected.