Season Eight

SuperFriends:
The Legendary Super Powers Show (1984)

Aired:
9/8/1984 to 10/29/1984
Production
Writer(s):
Alan Burnett
Gerry Conway
Rich Fogel
Cynthia Friedlob
Glenn Leopold
William M. Marston
Al Milgrom
John Semper
Joe Shuster
Jerry Siegel
Jeff Segal
Marc Scott Zicree
Director(s):
Oscar Dufau
Gordon Hunt (recording director)
---
---
Chronology

Previous Series:
---
Next Series: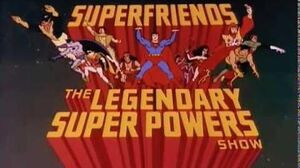 Series Summary
Episode Lengths: 30 minutes

The ABC Network corrected their goof of the previous year and returned the SuperFriends to its 8am slot on Saturday mornings. The Super Friends: The Legendary Super Powers Show was the first Super Friends series in a new format since 1979's The World's Greatest Super Friends.
Format
This incarnation consisted of 16 short episodes and ran for thirty minutes - treating us to two 11-minute stories weekly.
It ran from September 8, 1984 to October 29, 1984.
This series was more in line with the very popular Challenge of the SuperFriends series, in that it also featured actual DC super-villains from the comics as regular adversaries. Such as, Brainiac, Lex Luthor, Mirror Master and Mr. Mxyzptlk, as well as Darkseid and his henchmen from Apokolips.
This series is noteworthy, in that, it introduced a new superfriends team member, Firestorm (Ronald Raymond / Professor Stein).
Toyline tie-in
Unlike previous series, this one was produced as a tie-in with the Kenner Toys Super Powers line. These action figures were sculpted perfectly, had power action and contained a mini comic book and a file card.
Notes
This series is perhaps best known for introducing the first animated version of Firestorm (we see him in his two secret identities quite a bit).
Olan Soule (formerly Batman) voiced over Professor Stein in this one season when Adam West took over as Batman.
Superman, Batman, Robin and Wonder Woman were in the lineup.
For some odd reason, despite his appearance in the intro riding his seahorse Storm, Aquaman does not appear in any episodes of this series.
The, Flash, Green Lantern, and Hawkman were reduced to one cameo.
Shannon Farnon after 10 yrs. as the voice of Wonder Woman was also re-cast in favor of the new voice, Connie Cawlfield. Connie ended up voicing Wonder Woman in this series only.[1]
The four ethnic heroes, Black Vulcan, Samurai, Apache Chief, and El Dorado were major players in this series and for the most part were usually the heroes who saved the day in the end.
According to DC writer/historian Mark Waid, Aquaman's sole appearance in during this season comes via his appearance within the opening credits.
This season also marks the first time Wonder Woman was animated with the =w= symbol on her costume instead of the eagle design, this carried over into the final series Galactic Guardians, which led to Justice League in 2001, where she wears a modified version of the =w= symbol.
This season also marks a series first, by replacing Olan Soule with the well-known Adam West as the voice of Batman. West would continue through the subsequent Galactic Guardians series.
Cast
SuperFriends Cast
Also starring
Cameo Appearances
Villains:
Episode List:
See Also
Warner Home Video released The Complete Series of Super Friends: The Legendary Super Powers Show on DVD[2] on August 7, 2007.
| DVD Name | Ep # | Release Date |
| --- | --- | --- |
| The Complete Series | 16 | August 7, 2007 |
This DVD series is available through Amazon – The Super Friends: The Legendary Super Powers Show - The Complete Series (DVD - 2007).
External links
Videos
References
↑ It has been commonly believed that Connie got the role because she was dating the voice director, probably due to the Shannon Farnon interview. This is not correct. The casting director was a women and Connie was married at the time and still is. She auditioned along with over 300 other actresses. They sent her audition to the networks and ended up casting her because they "liked the little crinkle in her voice."