Home
Talk

3
4,776pages on
this wiki
Celebrating 40 years of Super Friends! (1973-2013)

Hey everyone, check out the new fan art page! Upload your art and post it on this page!
Welcome to SuperFriends Wiki.

We are currently editing over 4,776 articles, and we need your help!
This Wiki is dedicated to Hanna-Barbera's SuperFriends that aired on
from 1973-1985.
Browse the SuperFriends Universe
In Universe • Series and Episodes • Superheroes • Villains • Teams • Equipment • Minerals • Planets •
Vehicles • Characters • Buildings • Cities • Places • Real World Articles • Known Universes • Earth-1A Timeline • Multi-Universes
Justice League of America • Legion of Doom
Marc Tyler Nobleman Interviews
Marc Tyler Nobleman was able to interview 28 voice actors, writers, and animators from the Super Friends series!

To get started, go to "Super Friends" — Introduction at Noblemania.

This is part of a larger series entitled, 'Super '70s and '80s'.
| | |
| --- | --- |
| SuperFriends: Heroes and Villains | |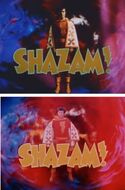 Shazam!
Shazam! was Filmations first live-action television series that ran from 1974 to 1976.
The show spawned a spin-off, The Secrets of Isis, and in 1975 the two paired up together, becoming The Shazam/Isis Hour.
The series featured young Billy Batson (Michael Gray) and his elderly guardian, known only as Mentor (Les Tremayne). Together they traveled across 1970's California in an RV, righting wrongs and helping those in need. Gone is any reference to his home town of Fawcett City. When trouble arose, Billy exited the RV, spoke the magic word "Shazam". He was instantly struck by a magic lightning-bolt and transformed via animation and special effects into the World's Mightiest Mortal, Captain Marvel.
| | |
| --- | --- |
| SuperFriends Comicbook Series | |



Michael Kohler on Boomerang put this together




Superheroes United!! Fan-made Roll Call




Legion of Doom Roll Call
---
Copyright Information
DC Universe characters and the distinctive likeness(es) thereof depicted in this site are Trademarks & Copyright © DC Comics, Inc. and Warner Brothers Entertainment. This Wiki is in no way associated with them nor sponsored by its producers. The information garnered here, including but not limited to character biographies, episodes descriptions, quotes, and images, has been submitted for informational purposes by contributors who make no profit from the production of this site. The views expressed do not reflect those of the previously mentioned companies.
---
No copyright infringement is intended.
---