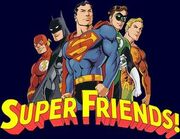 This page is for fans who would like to show off their very own Super Friends fan art!! Feel free to post as many pics as you like, as long as it's art, it goes here. This is very early on so we might do this differently as time passes but for now we'll just have it all right here on this one page.
Fan Art
Ad blocker interference detected!
Wikia is a free-to-use site that makes money from advertising. We have a modified experience for viewers using ad blockers

Wikia is not accessible if you've made further modifications. Remove the custom ad blocker rule(s) and the page will load as expected.