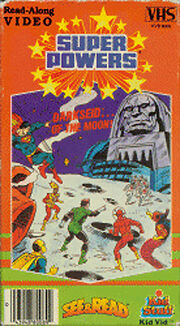 The Super Powers Kid Stuff series was a series of three episodes released on and vinyl record and audio cassette in 1985-1986 to tie in with the Super Powers action figures.
At least the first two episodes were also released on VHS. The records and audio cassettes came with a storybook to read along with.
Kid Vid Productions produced the animated videos for their Kid Stuff line.
Episodes
References
↑ This is on of the video cassettes.
External Links
Ad blocker interference detected!
Wikia is a free-to-use site that makes money from advertising. We have a modified experience for viewers using ad blockers

Wikia is not accessible if you've made further modifications. Remove the custom ad blocker rule(s) and the page will load as expected.