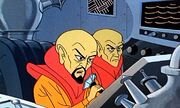 Thruta is a planet in another galaxy. Aliens from this planet were once unable to leave earth due to their ship malfunctioning, so they attempted to steal some rockets from an Air Force base. Superman stops them and sends them home himself.
Appearance
Ad blocker interference detected!
Wikia is a free-to-use site that makes money from advertising. We have a modified experience for viewers using ad blockers

Wikia is not accessible if you've made further modifications. Remove the custom ad blocker rule(s) and the page will load as expected.