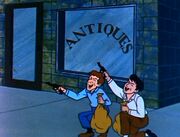 Crime is a term used to describe illegal actions taken by certain individuals or groups of people, that are in violation of the law. People who commit crimes are referred to as criminals. During Bruce Wayne's studies of criminal psychology, he learned that criminals were in general a superstitious "cowardly lot."[3] Small-time criminals are often referred to as thugs, hoodlums, and many other names. Some of the most dangerous criminals are known as supervillains. Men who fight crime are called Crimefighters. This refers to Superheroes and Law Enforcement officers.
Batman could be considered a criminal, as he was and still is viewed by some as a vigilante. This view is not nearly as popular as it was before, since Batman and Robin both are considered agents of the law in the Justice League, and therefore most people do not view him as a vigilante, but rather a costumed crimefighter.
List of crimes
Punishment for crimes
Names often given to people who commit or are believed to commit crimes
Organized crime and other criminal organizations
References
External Links
Ad blocker interference detected!
Wikia is a free-to-use site that makes money from advertising. We have a modified experience for viewers using ad blockers

Wikia is not accessible if you've made further modifications. Remove the custom ad blocker rule(s) and the page will load as expected.