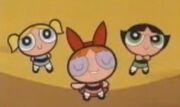 Townsville is a city located in the United States of America. The Powerpuff Girls are the local superheroes in the city.
Natives
Notes
Townsville originally appeared in The Powerpuff Girls, an animated series created by Hanna-Barbera. The city was later seen in DC Comics.
References
↑ As seen in Super Friends and the Powerpuff Girls.
↑ For more information about this DC comic book, click here.
External Links
Ad blocker interference detected!
Wikia is a free-to-use site that makes money from advertising. We have a modified experience for viewers using ad blockers

Wikia is not accessible if you've made further modifications. Remove the custom ad blocker rule(s) and the page will load as expected.