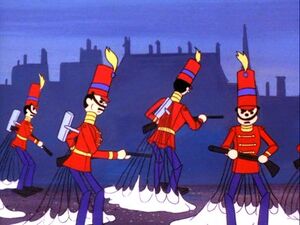 Toy soldiers are figurines that are designed to look like soldiers. They've been around for centuries, and come in all different sizes, and made of all different types of materials, usually wood and plastic. Toyman had some robot toy soldiers that he used to take over London.
References
↑ As seen in The Giants of Doom.
External Links
Ad blocker interference detected!
Wikia is a free-to-use site that makes money from advertising. We have a modified experience for viewers using ad blockers

Wikia is not accessible if you've made further modifications. Remove the custom ad blocker rule(s) and the page will load as expected.