Triple-Play
Talk

0
5,267pages on
this wiki
Previous Episode
Next Episode
The Prankster steals the World Series by transporting it to a far away remote island. He forces Superman to play a game of Baseball otherwise his friends will die. The game is unfair because Prankster wants to kill them anyway. Superman must stop him.
Superman Family Album
The Circus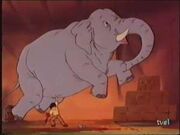 The Kents take Clark to the circus, where Clark inadvertently becomes part of it!