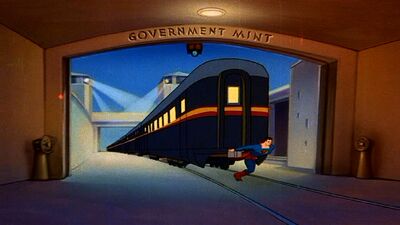 The U.S. Mint is located in Washington, D.C. There are also other branches in other cities as well. The bullion depository is located in Fort Knox, Kentucky.
It was where the Gold Transport Train transported a billion dollars worth of gold to.
The U.S. Mint also had a branch in the city of Metropolis called the Metropolis Mint.
Appearances/References
The New Adventures of Superman
References
↑ As seen in Billion Dollar Limited.
↑ As seen in Wanted: The Superfriends.
External Links
Ad blocker interference detected!
Wikia is a free-to-use site that makes money from advertising. We have a modified experience for viewers using ad blockers

Wikia is not accessible if you've made further modifications. Remove the custom ad blocker rule(s) and the page will load as expected.