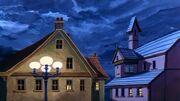 Vienna was the capital of the Republic of Austria.
The famous rock band known as the Vienna Boys Boogie Band were presumably either from this city or had their band named after this city.
The United Nations had an office in this city, with their main headquarters located in New York City.
Appearances/References
Hanna-Barbera's SuperFriends, Season 3 (1978):
The Plastic Man Comedy/Adventure Show (1979-1981):
References
↑ As seen in Attack of the Vampire.
External Links
Ad blocker interference detected!
Wikia is a free-to-use site that makes money from advertising. We have a modified experience for viewers using ad blockers

Wikia is not accessible if you've made further modifications. Remove the custom ad blocker rule(s) and the page will load as expected.