The Washington Monument is in the National Mall in Washington, D.C. and it is a large structure built in honor of George Washington.
The monument, made of marble, granite, and sandstone, is both the world's tallest stone structure and the tallest structure in Washington, D.C.. It was designed by Robert Mills, an architect of the 1840s. The actual construction of the monument began in 1848 but was not completed until 1884, almost 30 years after the architect's death.
The cornerstone was laid on July 4, 1848; the capstone was set on December 6, 1884, and the completed monument was dedicated on February 21, 1885. It officially opened October 9, 1888. Upon completion, it became the world's tallest structure, a title previously held by the Cologne Cathedral. The monument held this designation until 1889, when the Eiffel Tower was completed in Paris, France. The monument stands due east of the Reflecting Pool and the Lincoln Memorial.
The Raven described the Washington Monument as a building "rich in tradition and history."[3]
The Washington Monument was stolen by the Raven when he developed a craft that he used to manipulate the gravity field of a white dwarf with, which allowed him to lift the Monument into the air. But Superman later recovers the Monument, as well as other items he had stolen.[4]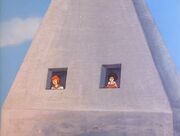 Appearance
Season 1 (1973):
Season 3 (1978):
References
External Links
Ad blocker interference detected!
Wikia is a free-to-use site that makes money from advertising. We have a modified experience for viewers using ad blockers

Wikia is not accessible if you've made further modifications. Remove the custom ad blocker rule(s) and the page will load as expected.