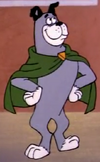 Wonder Dog is Marvin's half-bloodhound pet dog.[1] Marvin has him all dressed up in a superhero costume, since he views his dog as his sidekick.
Episode Appearances
Notes


External Links
References
↑ It is revealed in Season 1 that Wonder Dog is half-bloodhound. It's not certain what the other half is.
↑ As mentioned in the season 1 episode The Shamon U.
↑ The Justice League Unlimited episode: Ulimatum at the Watchtower. Also, go the DCAU wiki for a thorough review of the episode: Ultimatum.'
Ad blocker interference detected!
Wikia is a free-to-use site that makes money from advertising. We have a modified experience for viewers using ad blockers

Wikia is not accessible if you've made further modifications. Remove the custom ad blocker rule(s) and the page will load as expected.