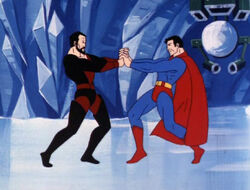 Zycree was banished to the Phantom Zone by Jor-El.
He is a native of the planet Krypton.
Notes
Michael Reaves named the character after another famous Super Friends writer: Marc Scott Zicree, a noted sci-fi writer in his own right.[1]
His appearnce is based off of Terrence Stamp's famous potrayal of General Zod in Superman I and Superman II.
Episode Appearance
References
Ad blocker interference detected!
Wikia is a free-to-use site that makes money from advertising. We have a modified experience for viewers using ad blockers

Wikia is not accessible if you've made further modifications. Remove the custom ad blocker rule(s) and the page will load as expected.